Looking to exercise your mind and body from the safety of your own home? What about getting your kids more active as well?
Then Bhumi Yoga will be right up your street! We caught up with experienced teacher Beckie, to learn about Bhumi Yoga's conception. And how easily Beckie's travelled experience, studying across continents, has translated to her current online students across this and last year.
Describe the birth of Bhumi Yoga What made you want to transition from student to teacher? What's the significance of Bhumi?
My own yoga journey began in around 2010 and in 2016 I qualified as a children's yoga teacher. I knew that I wanted to start my own business but I also wanted to deepen my own yoga practice, since 2013 I have been travelling to India each year and exploring yoga with teachers there.

In 2019, I met Swamiji in Pushkar, Rajasthan and I decided to go back to study with him in 2020 and get certified. He teaches Patanjali's 8 limbs of yoga, it's a whole philosophy for living not just physical postures. The more I learnt the more I realised that I wanted to share this incredible practice with adults as well as children.

The day that I graduated was the day the cancellation of all international flights was announced and I got out of Delhi on the second to last flight before lockdown!

Bhumi means Earth and is the name given to me by Swamiji according to my Vedic astrology chart. It is important for my continued growth that I incorporate this name. I feel very connected to it.
What brought you to the area? Did you grow up locally?
I was born in Hammersmith and lived in Shepherd's Bush from 6 years old, I moved to Acton nearly three years ago on my return from six months of travelling in Asia. I thought that it might feel strange not to be in Shepherd's Bush but Acton high street feels very similar to Shepherd's Bush end of Uxbridge road and I felt at home right away!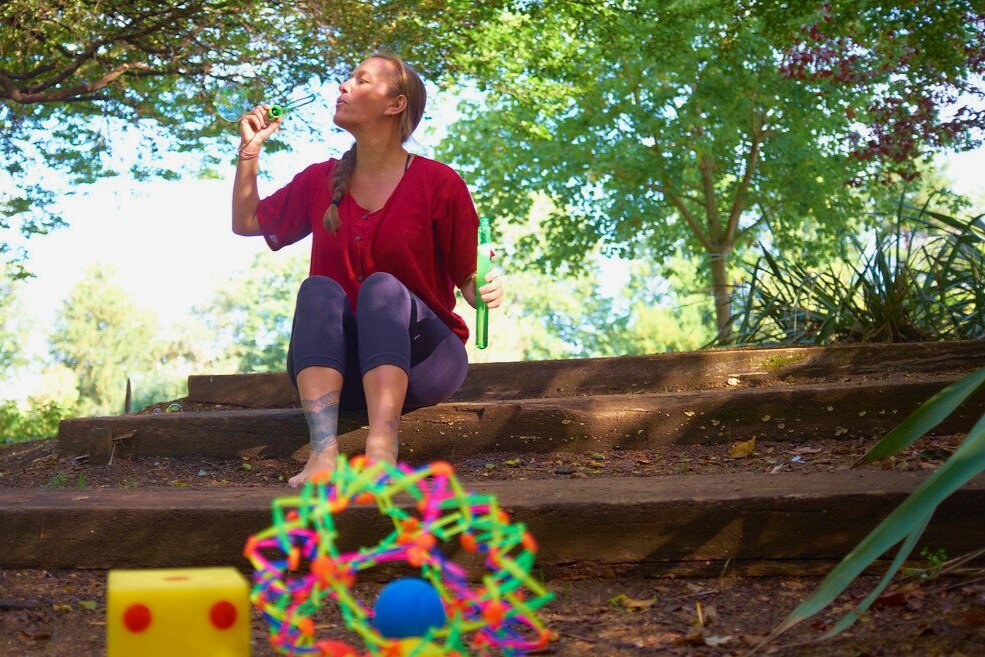 You teach kids as well as adults! Do you find it easy to connect with young people in your classes?
I have been working with children in all sorts of capacities since 1998 and I've been a qualified teacher since 2006. Combining my love of yoga and working with children came completely naturally to me, it brings me so much joy to provide children with an activity which they enjoy so much and has so many benefits for them.

I love the variety of teaching yoga to both adults and children, I was so excited to get back into teaching yoga in school in November, I missed the children so much. I really get so much out of all the age groups that I teach.
Was it easy to transition to online classes?
For me it came really naturally with adults classes, I was online teaching between 8 and 12 hours every week during the first lockdown so I got used to it very quickly and built incredible connections with my students during this time. That's not to say that I don't miss face to face classes, I really do but I think online classes will always be part of what I do now.

My first online children's class was on 2nd February and it went really well, the children loved it and I was really pleased with how I was able to transfer and adapt what I do in real life to an online environment. The children were totally engaged and the parents gave some brilliant feedback. This is a regular addition to my weekly timetable now.
Has your relationship to yoga changed over 2020? Have you noticed any changes in your students too?
Yoga has been a non-negotiable in my life for a long time but I think this last year would've been a lot harder for me without my practice.

During lockdown and as I've been building my business I've had the chance study different aspects of yoga and as a result I have definitely gone a lot deeper in all areas of my practice. I'm often fully immersed in yoga through the day through my own practices and teaching. The type of yoga I offer goes so far beyond what we do on the mat in class my students tell me that it's changed their whole outlook on life.

I've noticed that most of my students tend to have never practiced yoga before and I love that. I think the option of taking part in your own home and not having to enter a studio has given people who would never have tried the yoga the confidence to give it a go. For me that is really special, yoga is for everyone no matter your age, gender, shape or size.
Any silver linings to holding classes online, working from home, etc.?
I love that people from all around the world can attend my classes and that I can study with teachers that I wouldn't have had the chance to study with before COVID.

Online communities for yoga practice and study have become very important to me and I find it's easier to find people with the same interests than it was when we were mainly studio based. I would love to build a local community of people who attend my classes though, one day I hope we can offer face to face classes again safely.
What do you love to do on your days off?
I love cooking, we eat a lot of Asian food in our house. I'm vegan so I love to find ways to make delicious classic dishes but veganised.

I'm a big reader, I've got to the stage where I am dipping in and out of about 7-8 different books at a time, most of them linked to yoga and spirituality in some way. The novel I'm currently reading is Toni Morrison's Beloved, I can't believe I haven't read more of her work before now.

I love walking in nature, I can't tell you how much time I've spent in Acton park in the last 12 months! I'm looking forward to getting out of London when we can.

For years I didn't watch any TV, that's changed now and I'm finding there is a lot to catch up on! I think it's really important to be kind to ourselves and allow for downtime, especially at this time of year and with everything that is going on in the world, a bit of escapism is needed sometimes!
What are some of your favourite local spots?
I really could talk about local businesses all day! On Acton High Street, I love Hakikat for fruit and veg and AD Oriental for lots of interesting sauces, tinned jackfruit and banana blossom. The new Damas Garden is also a great addition. I love Zahra chemist the staff are so helpful and friendly and they are open such long hours!

The changes in Churchfield road are amazing, it's so inspiring to see so many local businesses popping up and so much creativity. I love Bueno for coffee, I buy my freshly ground coffee there to make at home, Francesco also has lots of delicious vegan options in his deli section – they are not labelled as vegan but there is a lot there!

The Sushi place, Ezo has a lovely vegan option, the people are no nice and the food is authentic. Lavelli bakery does delicious bread and I love exploring the shelf items at Basil and Toms. Also, the Art of Chimney Cake smells incredible and I've been meaning to try their vegan pancake for months!

I've also got to shout out the amazing staff at Sainsbury's who have been consistently looking after us all through lockdown, it's so lovely going to the local shop and knowing the staff by name and having a chat. Our corner of Acton really is a lovely little community. I can't wait until everything is back open and I can explore some of the newer places that I haven't had the chance to check out yet!
Do you have a favourite artist of right now?
To be honest I haven't been listening to much new music recently but my good friend Danny (Daddy Long Legs and Her Indoors – representing Top Banana HIFI Sound System) hosts a vintage, vinyl only, radio show every Wednesday night between 6 and 9pm on London's Hot96.

His selection of rare groove, soul, reggae plus jazz and Latin music from the 60s to the 90s influenced the music we grew up on in London. Each show includes social, cultural and local history with special guests and a weekly hour special on a different favourite artist each week. His musical selection and hosting style appeals to everyone, all ages and cultures, if you're not already tuning in, you should be!
Any parting wisdom to share with other small business owners?
Nothing is certain, create an online option in any way that you can for your business. Also, showing up consistently and authentically in any way that you can matters to people.